Transforming Lives through Language and Culture

The importance of language and culture in our everyday lives cannot be undermined; while culture is a product of the human mind defined, propagated and sustained through language, language forms the basis for ethnic, regional, national or international identity. It plays a vital role in the customs, traditions, ideas, art and values the people.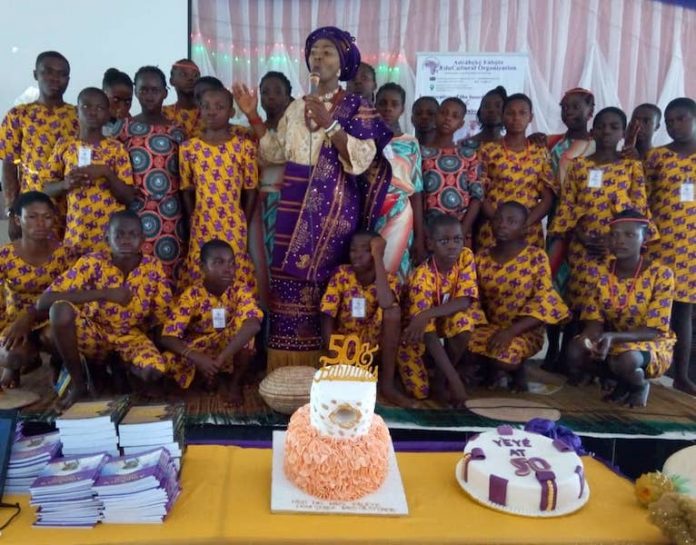 In Ila-Orangun, Osun State, the Adeabeke Fabola Educultural Organisation, a non-governmental organisation, has been promoting the Yoruba Language and culture among youths to harness their talents and enable them achieve what they want in life. Funmi Ogundare reports
With these in mind, the Adeabeke Fabola Educultural Organisation (AFECO), a non-governmental organisation, has decided to take it upon itself to groom youths in these areas with the intent of promoting the rich culture and tradition of the Yoruba land.
The NGO, which has its roots in the old and rusty community of Ila-Orangun, Osun State, was founded by a senior lecturer at the Department of Linguistic and African Languages, Faculty of Arts, Obafemi Awolowo University, Ile-Ife, Dr. Adeola Faleye. It is designed to promote the latent talents of youths, gender, special focus for craft and traditional knowledge dissemination.
Faleye told THISDAY at the inauguration of the organisation, which also coincided with her 50th birthday celebration and book launch recently, how she had nursed the idea 15 years ago to ensure that the youths live a purposeful life.
"I have always nursed the idea of having a school and teaching the youths; my focus has always been on children making it in life. I grew up learning the hard way because when I should have been encouraged to learn, I was abandoned.
"I picked an interest in the fact that I have some latent talents tapped from the exposure I had from my parents to improve on not just the local or indigenous language, but to also add value to it with the knowledge of reading and writing, which my parents never had. I have never for once felt inferior to myself even while I was growing up or my mates."
The cultural ambassador ascribed her love for the Yoruba Language to destiny, her determination, exposure to and acceptability of the factors around her.
"I grew up among parents that chant and sing, my mother was a trader and food vendor. I also lived among local people in Ile-Ife, but the art of speaking the right language is also heredity because in my family, we chant and sing.
"My plan was to study Law, but it didn't work out, so I applied for English Law and Accounting, which didn't also work out, but the only course I was admitted for was Yoruba Language at the College of Education in Ila. When I got there, I told myself, I wanted to go to the university, I had to fend for myself in order to grow academically, I had no supporter especially after I left secondary school. But I was determined and I told myself that I would make it. So when I eventually saw myself in Yoruba Studies, I told myself that I was going to be the best in the studies, which assisted me."
She emphasised on the relationship between language and culture, saying that language cannot stand in isolation without culture. "They are intertwined and connected because it is your culture that will boost your language. If you want to buy something in the market, your language can either assist your culture to grow or be jettisoned. Language is derived from your culture and culture can promote it.
"There is a way you dress, speak and greet in languages. Language is a concept that speaks to different periods, seasons and context of the users. So language is contextual sometimes, likewise your culture. If you are not one who is conversant with your culture, you can't apply the rules of the language. Your language is embedded in your culture, they can't be separated."
On the training of youths, Faleye said the organisation had brought together a total of 437 candidates, drawn from communities in Ila-Orangun, Oke-Ila, Ajaba, Ayedun-Ekiti, Osogbo, among others, trained them on drama and songs and they participated in a competition to reduce their number, adding that it is currently developing a centre where the youths will be continuously trained and have the opportunity to impact others before they leave.
"The idea was to sensitise the youths, empower them so that they can imbibe our culture from childhood. The motto of the organisation is 'Transforming Lives, Protecting our Cultural Heritage', we created this so that they can remember and know that it stands for transforming their lives from the worst to the best because they never knew they had the talents. The aim is to discover those talents so that they can turn it to something good for themselves and their community and make a livelihood from it."
Faleye, who is also the Yeye Asa of Ila-Oragun, thanked God for hitting the golden jubilee, while stressing the need to protect cultural values.
"There is need for transformation, except that we don't want to be realistic, there are certain things we do now. I can't train my children the way my mother trained me because of my exposure, so what I do now, I balance it by training my children, I believe in quality and fairness and empowering children to thrive."
Asked where she sees the organisation in the next five years, the chairperson of the organisation said, "I see it going international, I am very optimistic and anything I lay my hands on, God has always helped me, it may be tough and rough, but with the saying, 'without pains, there can't be gains'. So if I want it to go international, I have a website, a board inaugurated, we have a registered name under Corporate Affairs Commission (CAC), we are linking with NGOs who can collaborate.
"It is going to be such that will accommodate as many people who come to assist the children to run different programmes and workshops. I reach out to people who I know have similar vision to assist me, I have written series of letters to philanthropists and people have been wonderful and that was after I erected the building we inaugurated today to make it a home and habitable place for the youths. I brought trainers to train the students so that they can gain from their wealth of experience."
The Chairman of the occasion and former Governor of Osun State, Chief Bisi Akande expressed delight about the AFECO centre, saying, "I am very proud of her because thinking can make a person great and make a nation grow. It is her thinking that has made it possible which is the beginning of growth as a seed centre for development. It is about culture and education of the youths and for those who are interested in the Yoruba Language, culture with educated background or support can grow our society."
He admonished the indigenes of Ila-Orangun Community to bring back the profits of their investment to develop the place and empower the poor community.
"There are some investments that may not be able to grow in a rural community, but the profits of investment should be brought back here so that it can circulate around the people, it will empower the poor community. When we were growing up, in the whole of Osun State, there was no institution that could employ one graduate, so definitely, when you get educated, you go to the city to get employed; the fruit of investment must be brought back home. The people don't come back to give back to the community and that is very sad."
The wife of the in-coming governor, Mrs. Kafayat Oyetola described Faleye as a hard working woman, who wants to impact positively on the youths.
The son of the late Attorney General of the Federation and Minister of Justice, Chief Bola Ige, Honorable Muyiwa Ige argued that over the years, the country has continuously lost track of upholding its culture, adding that culture and values should not be lost.
"What you see out there in the present day Yoruba land is nothing to speak about and the only thing we have responsibility of doing is to ensure that we protect and guard our culture jealously and encourage people to get an understanding of what their culture is all about and in particular great values. The Yoruba culture is the deepest in the entire world, which teaches you not only good manners.
"When you talk about our culture dwindling, hope is not lost and this programme being nurtured by Yeye Asa of Ila is a step in the right direction. Others are embarking on similar ideas in Ibadan, but this one is quite interesting and encouraging the children of the community and of the Yoruba land to have a thorough understanding of what their culture is about, not only mannerism but even in the language. If we can't speak our language properly, it may go into extinction."
On ways to address the poor reading culture among youths, he said he is currently working on a programme to set up neighbourhood libraries. "Unfortunately with social media, young people are getting away with reading and writing. Back then in the days of my parents, when we were growing up, we wrote letters, nobody between the ages of 18 and 25 can tell you they have written a letter in the last 10 years. We must encourage reading English and Yoruba.
"I am working on a programme to set up libraries everywhere, particularly Oriade, Obokun Local Government Areas and Ijesha Land, which will be stacked with books to encourage the reading culture. We have to let our children know that there is a lot of information hidden in these books, so we must read and dissect all the information; we will add greater value, readers are great leaders.
---
Source: www.thisdaylive.com